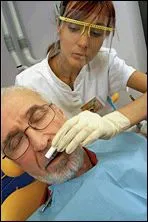 Sedation dentistry is a technique used by a trained dentist to provide a relaxing and anxiety-free experience for people receiving dental treatment. A major benefit to the sedation technique is that patients often feel the procedure lasts only a few minutes when in fact, it might have taken hours to perform. Most patients are completely relaxed during their visit and remember very little about their visit afterwards.
Dental anxiety is common and many people avoid visiting the dentist because of dental phobias. Avoiding regular dental care usually results in neglect of oral health and appearance, up to the point when drastic measures often become necessary. Some people are fearful of injections, while others are afraid of the actual dental procedure. It is important to tell the dentist about your fears so they can be addressed. In some cases, simply discussing the planned procedure is all that is necessary to alleviate the patient's dental anxiety.
Sedation is a technique that aims to pharmacologically alter your central nervous system (CNS) to produce an overall calm and relaxed sensation. A sedative medication (tranquilizers, sleeping pills, anxiolytics, etc.) is used to induce sedation in a variety of ways. In the past, IV sedation was predominately used to produce a sedative effect in dentistry. Today there are alternatives available which offer a 'no needle' approach that many patients find more accommodating than the traditional IV method.
After consulting with the dentist, you will take the oral medication before your next visit. You will need a family member or friend to transport you to and from the office safely. When you arrive for your appointment, you will be awake, but drowsy. Most important, you'll be relaxed and anxiety free. While you are in the chair, the dentist and his team will monitor you closely. You will not be unconscious; you will simply enjoy a mental and emotional "freedom" from the dental procedure. In seemingly little time, the procedure will be over and your driver will take you home to rest until your medication wears off.
Seeking the advice of a dentist experienced in sedation dentistry, rather than forgoing treatment because of fear, gives people the opportunity to undergo much needed procedures they would have otherwise avoided.
Please call our office today to schedule a consultation with Drs. Kincaid & Purvis and allow him to help put your dental phobias to rest. Cast aside your dental fears with sedation dentistry.